EPDM is an extremely durable synthetic rubber roofing membrane  (ethylene propylene diene terpolymer) widely used in low-slope buildings in the United States and worldwide. Its two primary ingredients, ethylene and propylene, are derived from oil and natural gas. EPDM is available in both black and white, and is sold a broad variety of widths, ranging from 7.5 feet to fifty feet, and in two thicknesses, 45 and 60 mils. EPDM can be installed either fully adhered, mechanically attached or ballasted, with the seams of the roofing system sealed with liquid adhesives or specially formulated tape. Typically, there are three installation methods.
1.) Ballasted at 1,000 lbs/sq or 10 lbs/sq.ft. with large round stones.
2.) Mechanically attached is another method and is suitable in some applications where wind velocities are not usually high.
3.) Fully adhered is the most expensive installation method.
PVC (Vinyl) MEMBRANE ROOFING
Polyvinyl Chloride (PVC) membrane roofing is also known as vinyl roofing. Vinyl is derived from two simple ingredients: fossil fuel and salt. Petroleum or natural gas is processed to make ethylene, and salt is subjected to electrolysis to separate out the natural element chlorine. Ethylene and chlorine are combined to produce ethylene dichloride (EDC), which is further processed into a gas called vinyl chloride monomer (VCM). In the next step, known as polymerization, the VCM molecule forms chains, converting the gas into a fine, white powder – vinyl resin – which becomes the basis for the final process, compounding. In compounding, vinyl resin may be blended with additives such as stabilizers for durability, plasticizers for flexibility and pigments for color.
Thermoplastic is heat-welded seams form a permanent, watertight bond that is stronger than the membrane itself. PVC resin is modified with plasticizers and UV stabilizers, and reinforced with fiberglass non-woven mats or polyester woven scrims, for use as a flexible roofing membrane. PVC is, however, subject to plasticizer migration. (a process by which the plasticizers migrate out of the sheet causing it to become brittle.) Thus a thicker membrane has a larger reservoir of plasticizer to maintain flexibility over its lifespan. PVC is often blended with other polymers to add to the performance capabilities of the original PVC formulation, such as KEE – Keytone Ethylene Ester. Such blends are referred to as either a CPA – Copolymer Alloy, or a TPA – Tripolymer Alloy.
Vinyl roofs provide an energy-efficient roofing option due to their inherently light coloring. While the surface of a black roof can experience a temperature increase of as much as 90 degrees under the heat of the full sun, a white reflective roof typically increases only 10–25 degrees Fahrenheit.
Vinyl membranes can also be used in waterproofing applications for roofing. This is a common technique used in association with green, or planted, roofs.
It worthy of note that many Green Building organizations recommend not using PVC roofing due to significant environmental hazards from the toxicity of the manufacturing process as well as the noxious compounds released in a fire such as hydrochloric acid fumes and byproducts including dioxin, a potent carcinogen. Installers should also be informed of possible hazardous fumes while installing PVC membranes and where personal protective equipment.
TPO (Flexible Thermoplastic Polyolefin Single-ply Roofing)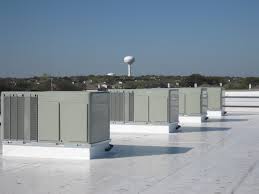 TPO is "Flexible"-retains flexiblilty "Thermo"-can be reheated again and again, does not cure". "Polyolefin"-a polymer produced from a simple olefin. Flexible Thermo Poly-Olefin is the exact physical and chemical name given to the product "TPO" Thermo Plastic Olefin. Although TPO exhibits the positive characteristics of other Thermo Plastics, it does not however have any "plasticizers" added to the product like other Thermo plastics. This mis-categorization made sense when the product was introduced in the early 1990s and was unproven in the industry. TPO was categorized with thermo plastic membranes that were similar in look and performance but were far from there real chemical and physical characteristics of the TPO membrane.
TPO was formulated to fix all the problems associated with other Thermo plastic membranes. Having no plasticizers and chemically being closer to rubber but having better seam, puncture, and tear strength, TPO was touted to be white weld-able rubber of the future.
From 2007-2012 reported sales of TPO roofing products by all six major U.S. manufacture's report materials and accessories sales quadrupling all other flat roofing materials. Gross sales of TPO membrane roofing in U.S. exceeds all other flat roof types combined. TPO's rapid market acceptance over the last twenty years by contractors, architects, engineers, and the market in general shows it is living up to its original purpose and it's here to stay. TPO is also being touted as the green solution as it is safer for installers and recycles 100% with out chemical byproduct. Flexible Thermo Polyolefin will soon replace the Thermo Plastic Polyolefin as the correct abbreviation for the TPO membrane roofing category
This roofing material can be fully adhered, mechanically fastened, or ballasted. TPO seam strengths are reported to be three to four times higher than EPDM roofing systems.
This is a popular choice for "Green" building as there are no plasticizers added and TPO does not degrade under UV radiation. It is available in white, grey, and black. Using white roof material helps reduce the "heat island effect" and solar heat gain in the building.